By Dawn Buck on Jun 20, 2017 in Uncategorized
History of Duluth's Parks on Thursday, June 22 at 7pm at Lafayette, upper level, open to the public
Art Fair this weekend! June 24 and 25
Hello,
Would you be willing to volunteer at the fair on Friday, Saturday or Sunday?
Please contact: Diane Gould, volunteer coordinator 727-4067
FRIDAY: June 23rd Late morning set-up for the big days; afternoon positions available for greeting artists, assisting them in locating their booths, offering exit information and answering questions, etc.
 SATURDAY, June 24th and SUNDAY the 25th Tasks: Greet the artists and hand out maps Booth-sit for artists who may need a break; no money transactions involved Children's Make-and-take area Grounds clean up (trash can duty)
 SUNDAY 5:00pm into early evening: Break down and return items to Lafayette; grounds clean up Please consider volunteering for at least a 2-hour period of time.
All volunteers are invited to attend the Artist Awards Ceremony and Dinner on Saturday evening! 
Remember: This is the largest fundraiser for the Park Point Community Club, which supports such things as the Breeze, the Lafayette Summer Youth Program and miscellaneous environmental and community sponsored projects.
Thank you for considering and hope to see you this weekend!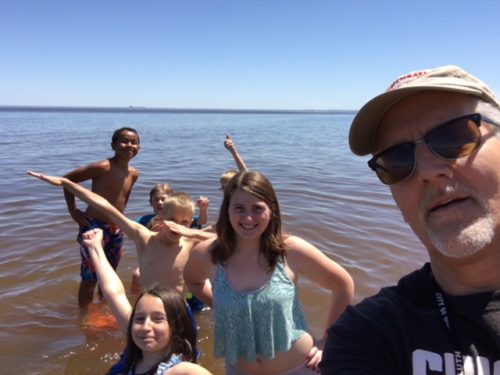 Kevin Chederquist, Director of the Summer Youth Program, Day One with the campers
Upcoming Events to Note:
Date: Thursday, July 13, 2017
Road closure:
From approximately 6:15 p.m. to 7:15 p.m., Minnesota Avenue will be closed temporarily from 2328 Minnesota Avenue to the south side of the ball fields. We apologize for any inconvenience this may cause and appreciate your cooperation and support for this event.
August 1, Neighborhood Night Out at St. Andrews Church
2802 Minnesota Ave. Hope to see you there!